Trust
Lauren grew up in the Mt Beauty and Tawonga area and attended kindergarten, Primary school and Secondary School in Mt Beauty. Lauren loved her family, her pet dog Ari, her dancing and was a loyal friend to those who knew her. In August 2001, during Lauren's Year 11, she was diagnosed with Non-Hodgkin's Lymphoma. Lauren underwent extensive chemotherapy and radiation therapy and returned to school in February 2002 to complete her VCE. During the Easter break Lauren relapsed and further chemotherapy was recommended by her doctors but the prognosis was grim. Lauren chose not to continue with further treatment.
Lauren's courage in the face of her illness affected us all and she won the hearts of the entire community of Mt Beauty and Tawonga. In response to the poor prognosis she was given by her doctors, the community swung enthusiastically into fund raising to support Lauren finding alternative treatment. The local Clubs, businesses, schools, and Lauren's friends worked tirelessly to raise more than $20,000. The generosity of local people was overwhelming and Lauren was encouraged by their support.
Tragically Lauren lost her fight with cancer. Lauren was 17 when she died but despite her young age, she had inspired us all with her optimism, ability to spread goodwill and her loving nature. Lauren's smile radiated an endless warmth and encompassed every-one around her.
The Lauren Sauervein Memorial Trust fund continues with the remaining funds and money raised by Mount Beauty Foodworks points system to support any local children who need to seek treatment for a serious illness.
Lauren's Garden
Lauren's friends were devastated by her death and were determined that she would always be remembered. Lauren was a true friend who always put other people ahead of her own needs. She never let her illness affect her friendships as Lauren was never one for self-pity. Lauren's strength and courage, during her illness, enabled her friends to turn their overwhelming grief into a positive project. They designed and built, with the help of volunteer workers and donated plants, a memorial garden.
Lauren's garden contains many of her favourite plants and colours and was constructed in a sunny area of the school yard where she regularly sat with her friends.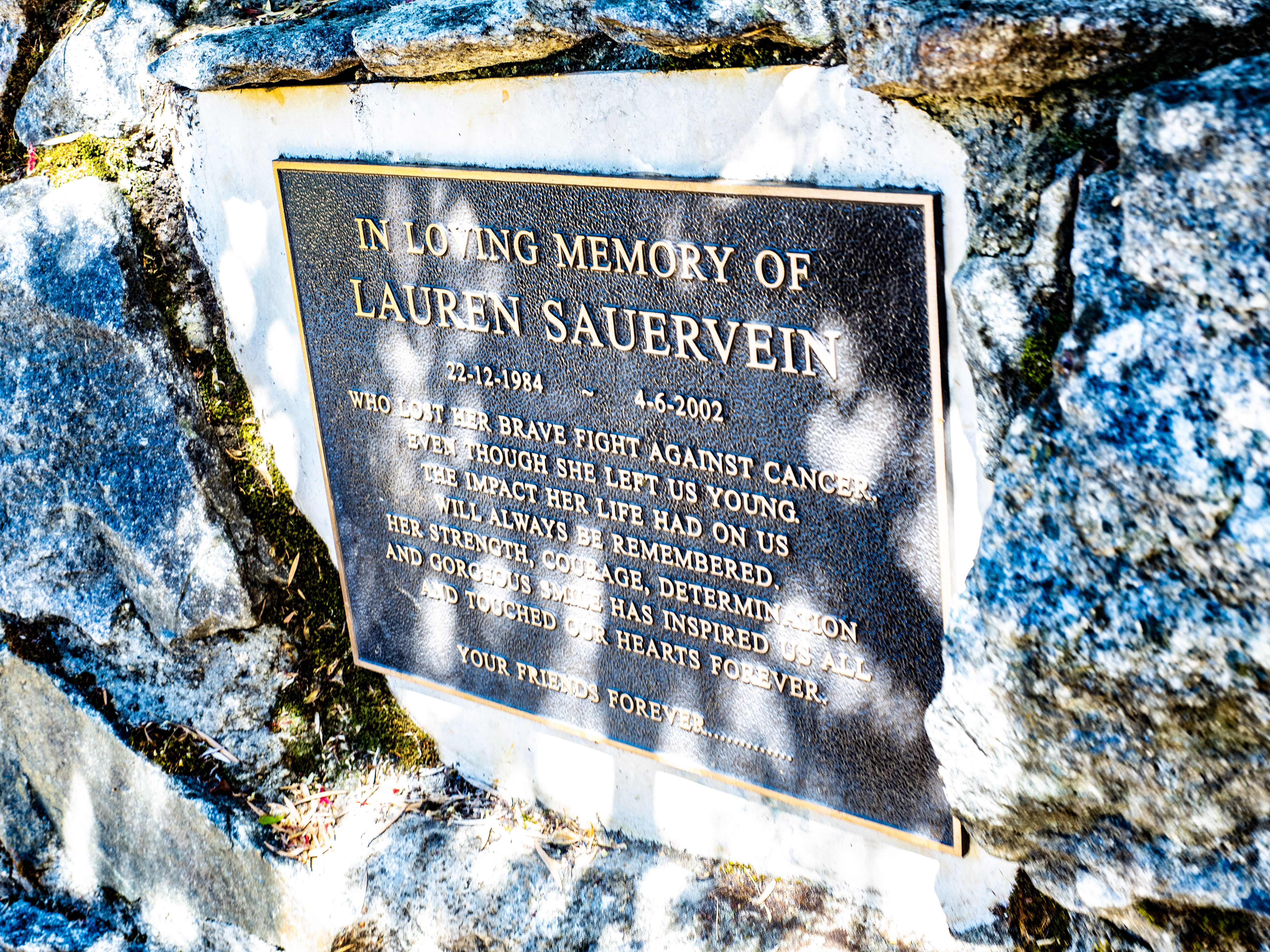 Lauren's Scholarship
Lauren's friends decided that an annual scholarship will be presented at the end of every school year to a worthy recipient in Year 11 or Year 12.
Family friend, Joe Iaria from Vegitation, and Lauren's nana Marinette, are the sponsors of this award.
Lauren's friends decided that this award would be presented to a student who demonstrates the following personal attributes.
> A highly motivated student who tries their hardest to do their best.
> A student who maintains good relationships with his/her peers.
> One who encourages and supports others.
A poem and illustration by Lauren
The seed was planted deep
in the dark, moist earth.
Its internal clock ticked on,
until it was time
to gently,
gracefully,
peacefully,
make its way out of that
dark, moist earth.
Then to the naked eye,
a tiny green shoot could be seen.
It stood upright,
exposed to the earth's harsh elements.
It continued to grow,
gently,
gracefully,
peacefully.
Until one day,
the tiny bud revealed its magnificent array
of bright exotic petals.
The earth was proud to produce such an exquisite display.
But nothing so beautiful
ever remains, as the last
dying petal drifted away.